Chemical degassing or subsequent degassing occurs through the addition of chemicals. These chemicals are dissolved in the dilution water (the quality depends on the operating conditions of the steam generator) and are suitable for removing or converting the oxygen contained in the water. The reaction times differ between the various chemicals that can be used. In general, the greater the water temperature the shorter the reaction time.

Some of these chemicals have almost no side effects apart from a minimal increase in harmless salts, while other chemicals form free acids that decrease the alkalinity. Another group form steam-volatile alkaline substances during heating, which are effective beyond the boiler to the steam and condensate network.

The addition of the chemical solution for removing remaining oxygen occurs together with any required corrective chemicals for stabilising the remaining hardness and alkalisation.
Dosing is done by means of suitable dosing equipment.

Due to the heavy use of chemicals, chemical degassing is of interest only at low boiler pressures and a low system performance. In medium-sized and large systems, chemical degassing is used only when it is necessary to achieve residual oxygen contents of < 10 µg/l.
Contactperson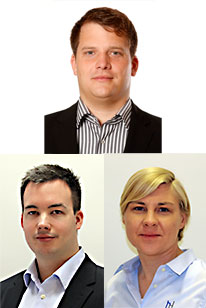 RWT GmbH
Erlenweg 42
33335 Gütersloh